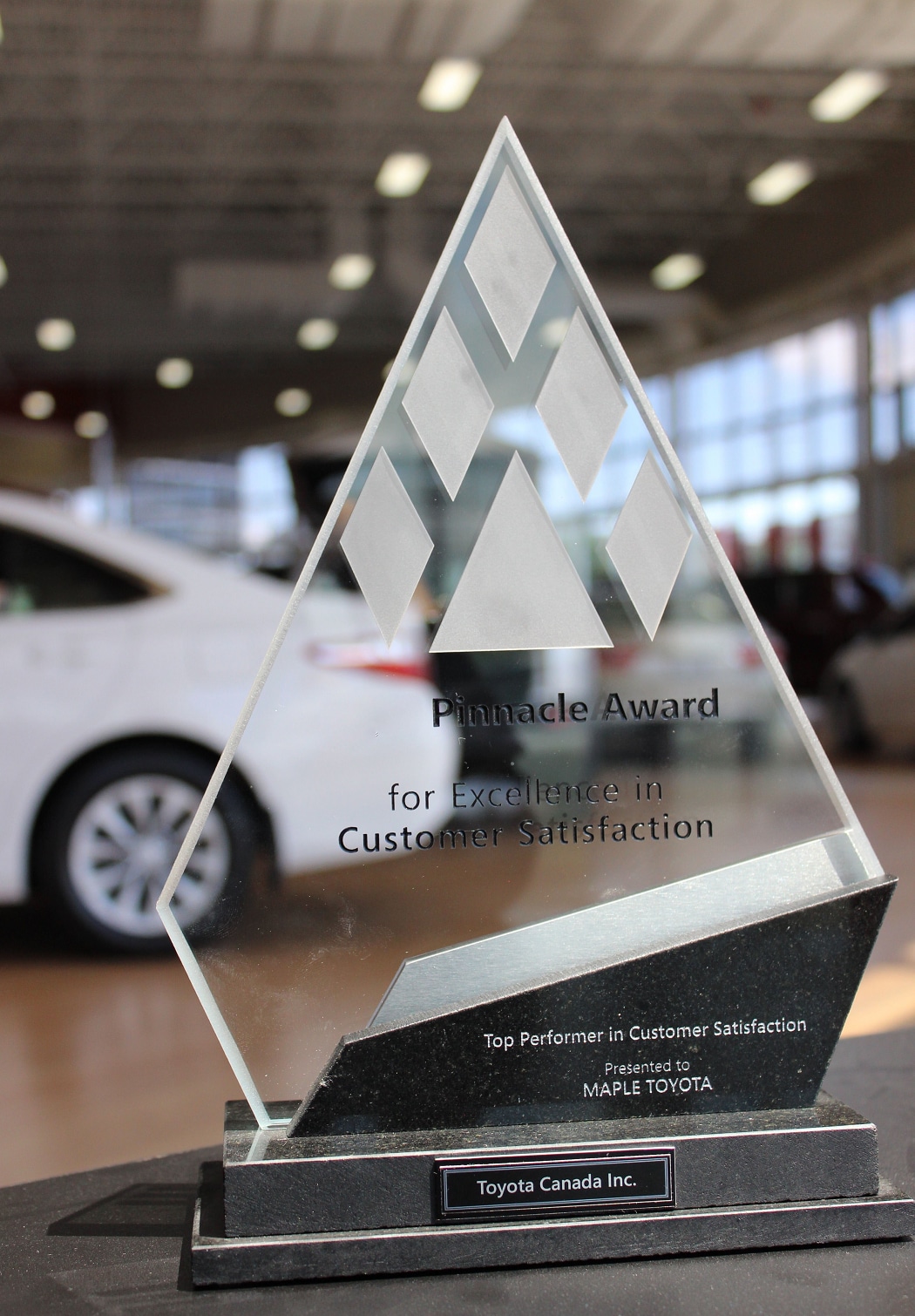 Here, at Maple Toyota, we like to let our outstanding service speak for itself most of the time. Over our many years of servicing the Maple - Vaughan area we are proud to have received our share of recognition for our high quality of customer service and satisfaction. 
Toyota Pinnacle Award
Maple Toyota has been awarded the Toyota Pinnacle Recognition for overall excellence in customer service for 4 separate years. 
The Pinnacle Award compiles statistics from annual surveys taken by our loyal Toyota customers and then Toyota Canada Inc. bestows this award upon the dealership with the highest ratings and regards.
Every day we strive to bring our customers with the utmost care and work hard to build a memorable connection during each customer's visit to our dealership.
This prestigious Pinnacle Award was also presented to 4 of our Product Advisors and 1 Financial Services Manager who went above and beyond the call of duty to bring customers the highest standard of service throughout each person's experience of purchasing a Toyota from us.
Proud Staff at Maple Toyota
Below are our proud recipients of the Pinnacle Award as well as the number of years they had the honour of receiving said award.
George Chua - 3 Year Winner
Tony Tang - 2 Year Winner
Kevin Khandon - 2 Year Winner
Roman Kolesnikov - 1 Year Winner
Jose Lopez - 1 Year Winner
Maple Toyota has had the pleasure of being presented with several other recognition's for our accomplishments over the years. We proudly display them in the showroom of our dealership. We are avid supporters of our community and are humbled by each new addition as if it was our very first.
Hours
Monday

9:00AM - 8:00PM

Tuesday

9:00AM - 8:00PM

Wednesday

9:00AM - 8:00PM

Thursday

9:00AM - 8:00PM

Friday

9:00AM - 5:00PM

Saturday

9:00AM - 5:00PM

Sunday

Closed