Toyota Hybrid Cars and SUVs for Sale in Ontario

Everything Worth Knowing About Toyota Hybrid Cars and SUVs From Maple Toyota in Maple, Ontario
We a Maple Toyota understand that longtime motorists used to traditional fuel-powered vehicles may need some help getting acquainted with Japan's finest hybrid cars and SUVs, and we're happy to provide the faithful folks of Maple, Ontario and the nearby areas of Vaughan, Richmond Hill, Markham, and North York with everything they need to know about these innovations below: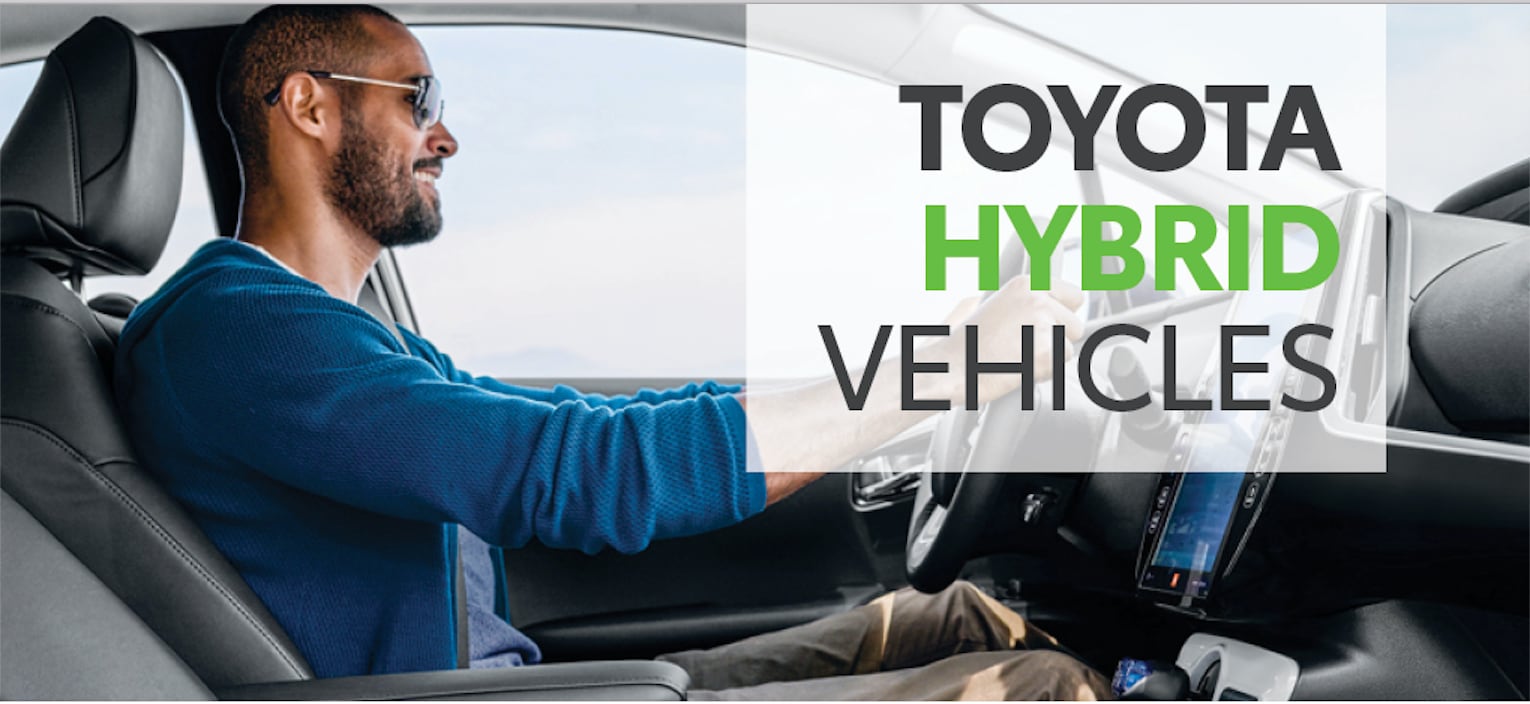 Toyota Hybrid Cars and SUVs
At Maple Toyota, our hybrid vehicles don't compromise or power or performance. They have the ability to recharge on the go so they never have to be plugged in. Our vehicles require no additional routine maintenance or change in driving and fueling habits. PLUS they help you reduce your carbon footprint with every kilometer. 
Toyota Hybrid Cars and SUVs can operate in electric-only mode, gas-mode only, or a seamless combination of both. It all happens automatically, without the need for driver input. The result? A powertrain that produces up to 70% less smog-forming emissions than conventional gas engines and diesel - without sacrificing performance or ever needing to plug in.
Toyota Hybrid Cars and SUVs in Maple, ON
Frequently Asked Questions about Toyota Hybrid Cars and SUVs
How (Plug-In) Hybrid Electrics Work?
Hybrid electrics are powered by both an internal combustion engine and an electric motor, with the batteries in the latter obtaining their charge from regenerative braking and the engine itself. 
Plug-in hybrid electrics differ slightly in that the batteries in the electric motor can be charged via a wall outlet or related equipment, with the internal combustion engine taking over once the electric motor's batteries are depleted.
Reasons to Choose a Hybrid Electric Car
Since a hybrid's internal combustion engine and its electric motor work in tandem, those accustomed to traditional vehicles can enjoy a hybrid without sacrificing the performance and fuel efficiency they're used to and save themselves the hassle of regularly searching for a charging port. Hybrids are also far more eco-friendly than traditional fuel-powered vehicles, given its alternative energy source, and they save you money on gas.
Which Toyota Vehicles are Hybrid?
Toyota has led the charge in hybrid automation, and boasts such an electrified vehicle lineup that touches every category in its fleet as a result, from the long-running Camry to the versatile Sienna. Contact Maple Toyota's finance centre today for more on how to proceed with your next hybrid purchase or lease.
Does Toyota Have a Hybrid SUV?
Toyota doesn't have one, but several mid- and full-size hybrid SUVs in its lineup, offering new, yet familiar variations of the Highlander, 4Runner and Sequoia, each of which provides motorists with the same reliable drive, enhanced capability and a standard suite of safety functions as their traditional counterparts.
Which is the Best Toyota Hybrid?
Toyota's varied stable of hybrids makes answering this FAQ a tall order. The long-running Prius has been a poster-child of sorts for the hybrid sector for many years, but Toyota has something for everyone, be it the Sienna for family travel of the 4Runner for towing and off-roading. In short, whatever your pleasure or need, Toyota's got a hybrid for it. Visit Maple Toyota to begin the finance application of the new Toyota hybrid of your choice.
Is it Worth Buying a Toyota Hybrid?
It most certainly is, as Toyota has taken great care in ensuring that its constituents continue to enjoy the drive, performance and comforts they've come to know and love with an alternative power source under the hood. Between its consistent performance and regenerative power, Toyota's hybrid fleet has led the charge in the automotive industry's paradigm shift without compromising what made the brand great. Refine your search for a new hybrid vehicle online with CarFinder before visiting our dealership for a closer look at Toyota's hybrid cars and SUVs.