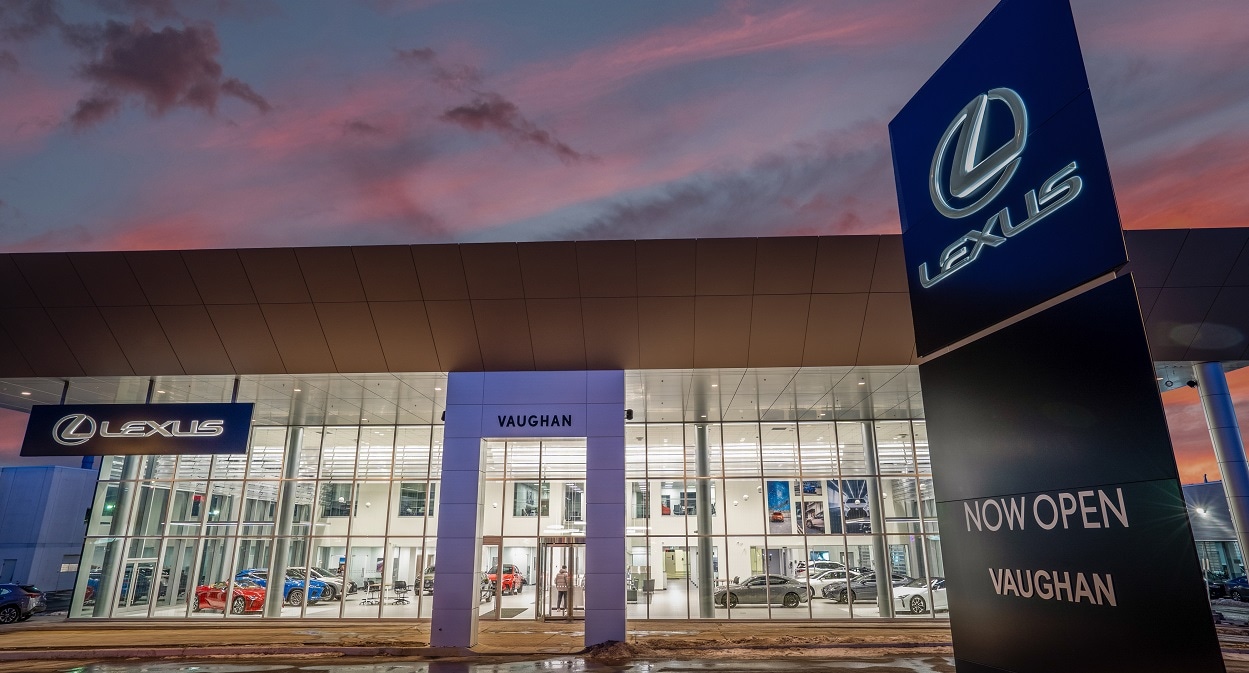 Lexus of Vaughan Is Now Officially Open In Maple, Ontario
Zanchin Automotive Group is thrilled to announce the opening of our franchise dealership Lexus of Vaughan. The all-new Lexus dealership is located at Maple Auto Mall right next to Maple Toyota. Our partnership with Toyota has spanned for many years, and we are extremely grateful for the continued support from Lexus Canada. We are honoured to be awarded Lexus of Vaughan and understand the responsibility we have taken on. Representing the Lexus brand requires a high level of attention to the overall consumer experience. Lexus has been recognized for its high customer satisfaction ratings for many years. Zanchin Automotive Group has been in business for over 40 years, and we believe we have the recipe to meet automotive consumer expectations in Vaughan, Richmond Hill, Markham, and North York.
State Of The Art Building
Construction of Lexus of Vaughan is now complete. The foundation of Lexus is to offer a luxury automotive experience, unlike anything else an automotive consumer has seen before. Come check out our new location. If you have any questions regarding our new dealership or Lexus please don't hesitate to contact us.
Lexus of Vaughan: Turn Heads And Provide An Unparalleled Luxury Car Experience
A white-glove service experience with a true state of the art building will provide clients an atmosphere that will exceed anything they have come to expect in an automotive dealership. We have focused on the various touchpoints within the automotive-buying experience and developed a process that is sure to please.
Lexus in Canada: History
In 1983, the time of the revolution was born when the idea of Lexus was conceived. We wanted to build a luxury vehicle to challenge the world's finest. To show Canada that we were serious, the debut of the Lexus LS 400 was our first entry into the market and was meant to make a statement. The LS was the genesis of Lexus DNA and would pave the foundation that the relentless pursuit of perfection was our way of saying we refuse to compromise. We spent six years of intensive R&D, developed 450 prototypes, and tested for 4.5 million kilometers. Over 30 years later, the fifth generation of the LS flagship sedan launched, drawing on its predecessors' proud history. We mentioned the arrival of the first LS, but to show everyone that our drive to succeed, we also launched the first ES at the same time. The ES has become one of the top-selling Lexus vehicles of all-time.
Made in Canada soon became our next journey. 2003 marks the year that Lexus vehicles were built outside of Japan for the first time. A specially designed plant in Cambridge, Ontario, became an automotive manufacturing plant that other brands pushed to emulate. This plant is awarded the production of vehicles like the RX and RX hybrid; in 2022, they will be awarded the NX and NX hybrid production. With over 18 awards and counting, the Canadian plant has a lot to be pleased about.
Lexus of Vaughan: Experience Amazing
As our new dealership is open, we know you will be excited to experience what Lexus has to offer. We have a vehicle that is guaranteed to suit your lifestyle and fulfill your needs. Indulge yourself in the luxury and experience what Lexus has to offer.
Toyota Lexus Dealership in Vaughan, Ontario
You are welcome to experience the best of Maple Toyota. Fantastic new vehicles like the Corolla, RAV4, Camry, Highlander, and Tacoma that fill our lot. We have a great selection of pre-owned, certified pre-owned, and demo vehicles as well. Maple Toyota also offers a full-service Parts and Service Centre with highly trained consultants and technicians. Come in and visit us.