Maple Toyota is the Premier Choice for Toyota Owners
At Maple Toyota, we know our staff provides exceptional and personalized customer service, and our vehicles deliver luxury united with style. But we don't expect you to just take our word for it. That is why we are inviting all automotive consumers in Maple, Vaughan, Richmond Hill, Markham, and North York, to read our reviews.
Find Out What Others Are Saying About Maple Toyota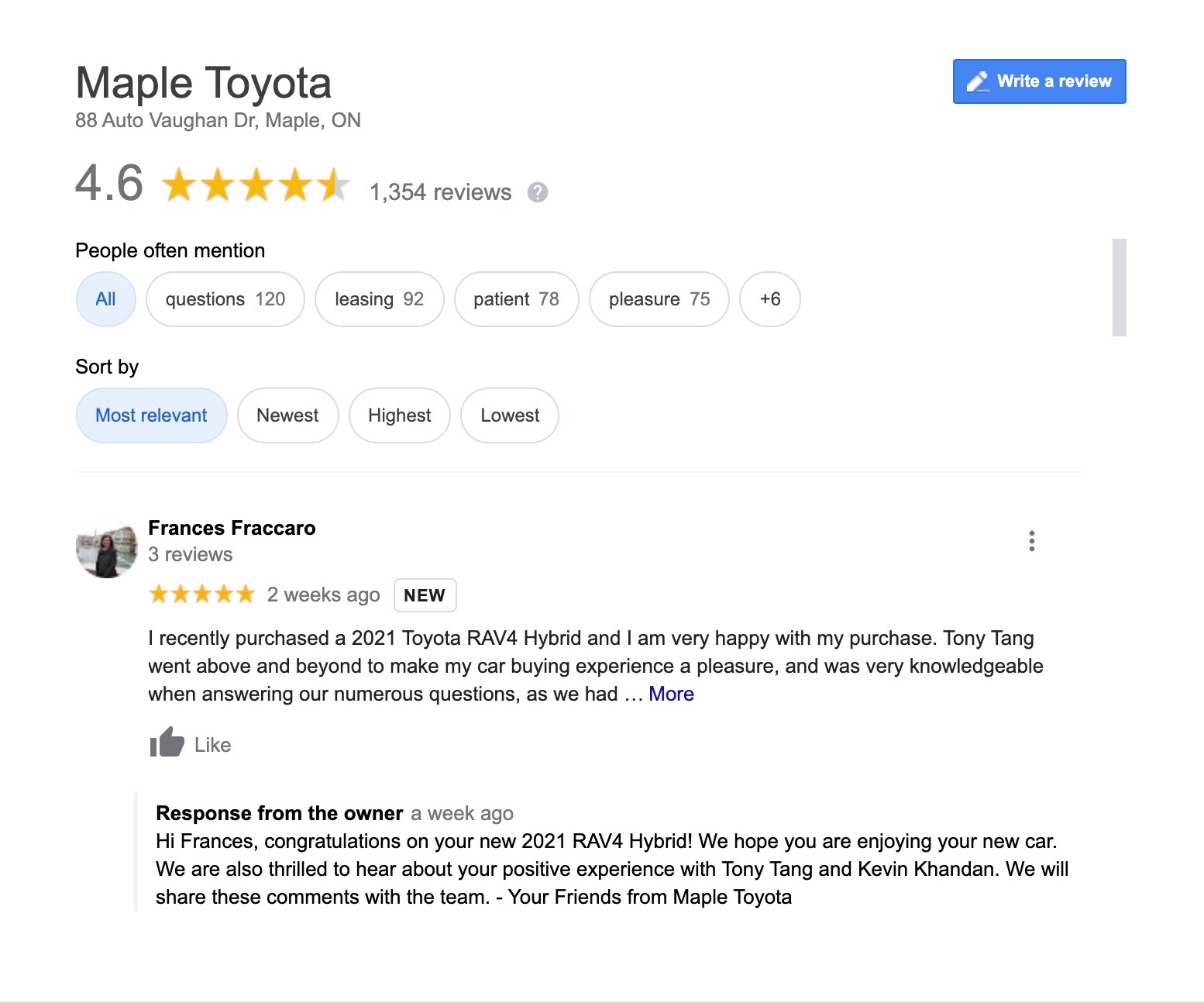 Our Maple Toyota Staff
It is safe to say, that 2020 has brought some challenges to everyone worldwide. With these challenges, we have adjusted our services to reflect the needs of our customers. We offer advanced communication through email, live chat, telephone, and messaging. At this Toyota dealership in Maple, we focus on the quality of service we provide. Our staff understands that not everyone is an expert when it comes to vehicle ownership. Therefore, we are committed to providing open, transparent, and honest communication. If there is something you don't understand, feel free to talk to one of our specialists, from Sales to Service to Parts we are here to help. Our car dealership 4.5-star rating on Google is a testament to the level of service you can expect regardless of your automotive needs. Read the reviews, and if you have had a recent experience with Maple Toyota we want to hear from you, leave us a review and rating.
Finance or Lease?
Get behind the wheel of a new Toyota faster, thanks to our easy to understand financial services. Have a look at the options available to you to make the best decision for your lifestyle and your budget. There are a few things to consider when it comes to leasing or financing your new Toyota.
Financing is a great option if you don't want mileage restrictions on your vehicle, want to own your vehicle, use your vehicle for commercial use, or want to accessorize or modify your Toyota using Genuine Toyota parts. If you choose to finance and shop online you may qualify for Toyota's "don't pay for 6 months" promotion.
Take advantage of Toyota's lease program if you want to lower your monthly payments, enjoy driving a newer car, and would like a short term commitment.
Now that you have explored your options there is only one thing left to do. Get in touch with Maple Toyota and let us help you create a financing or leasing plan that is right for you. Submit an online credit application and get approved for credit from the comfort of your home.
Our Toyota Inventory
This Toyota dealership in Maple ON is proud to introduce the latest Toyota models available for sale in Canada. Should you need a new vehicle at this time, we are here to support you. Maple Toyota has always made it easy for you to shop online. You can build and price a new Toyota, obtain a quote, apply for financing, and even chat directly with an agent, all from the comfort and convenience of your home. At a time when social distancing is so important, we encourage you to take advantage of our Start Your Purchase Online tool.
Toyota's hold their value extremely well. Just take a look at the number of Canadian Black Book and Automotive Lease Guide Awards Toyota has taken home every year. These awards are given to vehicles that best hold their residual and retained values over time. So when it comes to selecting a pre-owned vehicle, you know you're in good hands with Maple Toyota. Similar to purchasing a new Toyota, you can also start your purchase online for any of our used vehicles for sale. You can even negotiate pricing and take advantage of our special Toyota Certified Used Vehicle rates when you apply for credit online.
What Are You Waiting For?
Read our reviews, browse our inventory, and contact us when you are ready to receive the 4.5-star rating experience offered only at Maple Toyota.
Questions about our Reviews?
* Indicates a required field